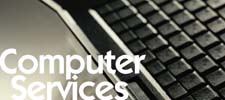 Onsite computer repair, new PC setup, hardware upgrades, wireless setup, networking & internet, software, data back up and more...

Affordable on-site repair service in the Triangle and surrounding areas of North Carolina.
Find out what just a few of our satsified clients had to say about working with DavesMedia. Read more...
Call 919.816.2285 or email us for a more information.
Let DavesMedia handle all your computer and networking needs.
Computer Services
DavesMedia provides fast, affordable computer solutions to small business and residential clients. We can provide service direct to your business or residence, including weekends and evenings. Let us take care of all of your computer repair and service needs!
Pay as you go - In Home or Off Site Service
Pay as you go for any type of computer or network technology support. We can help with data transfer, backups, wireless networks, software installation, digital cameras, spyware, virus problems, software updates and more.

Price: $65.00 Per hour
Computer Check Up
We will remove unused programs, old shortcuts, redundant files, invalid application paths, check for hidden errors, scan to determine if you have any spyware or viruses that need to be removed, check for windows updates, remove temporary files and more. Then help you figure out the best way to keep your computer performing at its peak, and advise you on how to keep it secure in the future.

Price: $125.00